Heber Horse Collaborative teams
Arizona State University's School of Sustainability (ASU) has committed to convening a collaborative Working Group to help provide input and recommendations for the development of the Proposed Action (to be conducted under the National Environmental Policy Act (NEPA) for the HWHT Management Strategy). ASU, with facilitation assistance from Southwest Decision Resources, is presently assembling a Working Group that aims to foster collaboration among a broad range of participants and perspectives. Proposed collaborative process concepts and roles can be found here in the concept paper.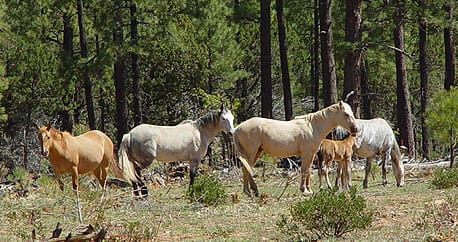 Collaboration teams
Convener: Arizona State University
Michael Schoon, Associate Professor
Michael Schoon is an assistant professor in Arizona State University's School of Sustainability, focusing on policy and governance in sustainable systems. His dissertation work at Indiana University's Ostrom Workshop in Political Theory and Policy Analysis, focused on transboundary protected areas or Peace Parks in southern Africa which won the American Political Science Association's best dissertation award. Following that, he began as a research associate for the Center for the Study of Institutional Diversity, also at ASU, where he conducts further research on collaboration across borders from those between landowners, governmental agencies, and nation-states. For these projects, he looks at collaborative, cross-border institutional arrangements covering a range of environmental issues from biodiversity conservation to water sharing to fire management in the Arizona borderlands. His work combines multiple methodological approaches and looks at causal clusters for the formation and governance outcomes of institutional arrangements.
Dr. Schoon is active in international research communities on resilience, robustness, and complex systems through the Resilience Alliance and the Beijer Institute of Ecological Economics. He serves on the board for IUCN's Transboundary Conservation Specialist Group, which advises academics and practitioners on large-scale, cross-border conservation. Finally, he serves as co-Editor-in-Chief of the International Journal of the Commons, the leading journal in common-pool resource management.
---
Facilitation team: Southwest Decision Resources
Larry Fisher, Senior Associate
Larry Fisher has 25 years of experience in agriculture, forestry, and conservation, and in community and rural development programs, and has worked both in the United States and internationally. He worked for 10 years as a federal mediator for the US Institute for Environmental Conflict Resolution, coordinating their Public Lands and Resources program. In that role, he supervised facilitation and/or mediation of more than 200 federal disputes related to forest management and restoration, species and habitat conservation, recreation, mining, oil and gas leasing, and watershed and ecosystem management. He is currently a Research Professor at the School of Natural Resources and the Environment, University of Arizona. He teaches courses on landscape conservation, climate change, and environmental conflict resolution, and is pursuing an active research and outreach agenda on these issues.
---
Andi Rogers, Senior Program Associate
Andi Rogers is a wildlife biologist by training, whose career for the last 17 years has primarily focused on issues surrounding public lands management and policy, and natural resource conflict resolution. Before joining Southwest Decision Resources in 2013, she was employed by the Arizona Game and Fish Department. During that period she served as the endangered California condor biologist, and the Habitat Specialist in Flagstaff, Arizona. Andi is well versed in a wide range of natural resource issues which include topics such as wind energy development, National Forest and BLM policies and directives, NEPA, ESA, transportation planning, forest and rangeland restoration, and grazing management on public lands.
Andi has a Bachelor's degree in Zoology from the University of Montana and a Master's degree in Wildlife Science from the University of Arizona.
---
Carrie Eberly, Program Associate
Carrie Eberly has worked with local landowners, state and federal agencies and land-based stakeholders in a variety of positions related to natural resource collaboration in northern Arizona over the past 8 years. She has hands on experience in community participatory analysis, curriculum development, and youth environmental education projects both locally and in South America as a Peace Corps volunteer and coordinator. Most recently she served as the program coordinator for the Diablo Trust, a ranch-based collaborative land management organization in northern Arizona.
Carrie holds a B.S. in Environmental Biology from Pacific University and a M.S. in Environmental Science and Policy from Northern Arizona University. Her studies focused primarily on collaborative monitoring and results-focused stakeholder engagement. She is fluent in Spanish.
---
Outcomes of the Working Group's collaborative process
Provide input into the development of the Proposed Action (under NEPA) for the HWHT Management Strategy.
Provide a platform for learning, analysis, and discussion that strives for solution-oriented contributions to the HWHT Management Planning process.
Timeline
The collaborative process is expected to be complete or have made significant progress within a one-year timeframe to provide input for development of the HWHT management strategy. As the working group provides their input and recommendations, the Forest Service will seek to integrate the group's findings into the formal NEPA process. The ASNFs anticipate having a Proposed Action developed by the end of 2017. The formal planning and public comment process on the Proposed Action (under NEPA) is expected to occur in 2018, followed by the environmental analysis and the development of a management plan for the Heber Wild Horse Territory by 2020.